Your Specialist in Houston Home Improvement Services
Interior & Exterior Painting Contractors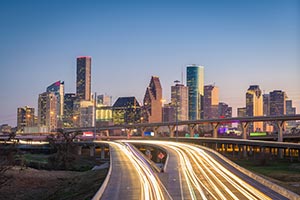 Most of us hate the thought of repainting our home. We put it off as long as possible until the wood is showing through exterior siding, or there are so many scratches on our wall that we can't ignore them anymore.
While anyone can paint a home, it is usually more challenging than the average do-it-yourselfer expects. Plus, it takes a lot of time. So we stretch it over a myriad of weekends and weeknights, often giving up on doing the job right. This results in corners that aren't fully painted or perhaps paint on the ceilings that we don't know how to correct.
Don't waste days doing what a professional can do in one day. When your home needs an update, contact the home improvement and painting contractors at Blue Sky Roofing. We offer comprehensive home improvement services in Houston, including roofing, siding, painting and gutter work.
Our Services
At Blue Sky Roofing, we're proud to offer many different services to our Houston clients. These include the following:
New construction roofing
Window installation, including vinyl, fiberglass & wood windows
Door installation, including French & entry doors
Gutters
Siding
Painting
Power washing
Deck & fence cleaning
We'll gladly discuss your individual needs and how we can assist you during our initial consultation. The professionals at Blue Sky Roofing know that home updates are a big investment for most people. In fact, you usually want to get an estimate and then determine the right time to do the job. That's why we offer free, no-obligation estimates that you can use to pull together your finances.
Get Started Today With a Free Estimate
Blue Sky Roofing won't pressure you into signing on the dotted line until you're ready. Contact us now at (512) 495-9770, or you can fill out our contact form to learn more.