Expert Commercial & Multi-Family Roofing Services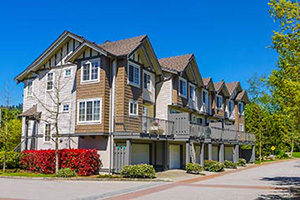 Blue Sky Roofing has worked on many commercial and multi-family roofing projects throughout our many years in business. When it comes to commercial roofing services, we know the importance of connecting with community, apartment and property managers as well as the homeowners' associations.
Blue Sky Roofing was built upon the principles of honesty and integrity. We know that if we do a good job and you're satisfied with our professionalism, you will choose us as your roofer for life. All our jobs are overseen by a project manager to ensure quality and success. We also offer industry-leading warranties, which means that your commercial roofing investment will be protected for years to come.
We Won't Leave You High and Dry
Blue Sky Roofing isn't your traditional roofer. We don't pack our schedule so tight that we're rushing to finish one job just to start another. Our main goal is to offer you a quality product that is installed correctly. Our craftsmen want to walk away knowing that you are totally satisfied with the entire process and the finished project.
What's more, Blue Sky Roofing is fully insured. Many roofing companies don't carry insurance, which could put you at risk if something happens during the job. We take on that responsibility ourselves.
Contact Us to Get Started
Unlike other roofing contractors, we don't hide our customers from you. Instead, we make our entire list of past customers available to you. Why? Well, the professionals at Blue Sky Roofing want you to know that our customers are 100% satisfied with our work. We always go above and beyond, and strive to exceed our clients' expectations every time. Get your project started today. Call us at (512) 495-9770, or schedule an appointment online by filling out our contact form.