Expert Home Improvement Services for the San Antonio, TX, Area
Gutter Replacement & House Remodeling Experts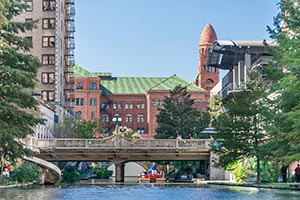 Your roof does the important job of protecting your San Antonio home from the elements. Yet it can't do its job on its own. It also needs the support of other systems, especially your gutters. Gutters collect the precipitation coming off your roof and direct it towards your downspouts. Properly functioning gutters stop water from backing up onto your roof, potentially causing leaks, as well as keeping runoff from falling directly down to the ground. This latter problem can result in ruined or warping siding, a deteriorating foundation, and washed-out walkways and landscaping.
While you can certainly repair your gutters, house remodeling experts will often tell you that replacing them may be the most cost-effective and efficient solution available to you. If you're ready to determine whether it's time to upgrade your gutters, contact Blue Sky Roofing for professional home improvement services.
We're Dedicated to Your Needs
At Blue Sky Roofing, we're not interested in the numbers game: quickly finishing one job so we can move on to the next without ensuring that everything is in working order. Instead, we stay until you're completely satisfied with our finished product and that it fits your requirements. Our crews are extremely skilled, and we always have professional oversight on every job. We back up our workmanship with top-rated guarantees, ensuring that your investment is protected for the foreseeable future.
Don't Let Leaky Gutters Cause More Expensive Repairs
Blue Sky Roofing is capable of handling any type of gutter replacement, in addition to a wide range of other services. We are happy to discuss your individual needs and how we can assist you. Blue Sky Roofing offers free estimates, where we'll come and inspect your San Antonio home and provide you with the right solution for your needs. Contact us today us at (512) 495-9770, or you can fill out our contact form.