Early fall is peak season for many roofing companies. As the harsh summer sun wanes and cooler days become more frequent, there's no better time in the year to take care of roofing work. Additionally, the timing is perfect as storms and other bad weather conditions are less common in the fall and winter.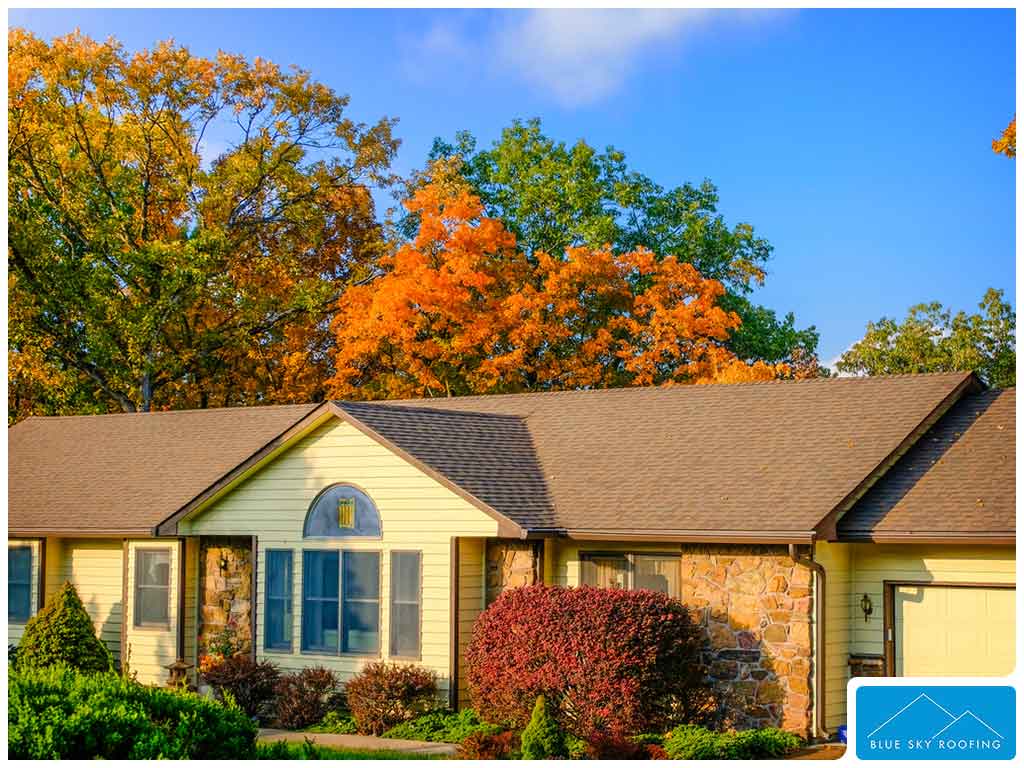 The biggest challenge for homeowners or property managers during fall is setting up a schedule with your roofing contractor. It's important to have all repairs or replacement requirements finished during this time or you risk facing bad weather with a failing roof. Our roofing professionals at Blue Sky Roofing show essential roof maintenance you should finish in fall.
Check the Shingles
There are likely hundreds of individual shingles on your roof installation and inspecting each and every one of them can be a tedious job. The best way to find damaged shingles is to look for visual clues that could signal a potential problem. Keep an eye out for missing, torn, cracked, or broken shingles. You should also check the drains in your downspouts for any small pieces of roofing as this could mean your shingles are losing granules. Contact a professional roofer if you see any of these telltale symptoms.
Inspect the Flashings
Flashings are sheet metal strips used to protect the joints, valleys and eaves of your roof against water penetration. Any damage to these important areas should be repaired immediately by a professional roofer as they can easily spread to other parts of your roof.
Ventilation and Insulation
One of the most common reasons for a roof replacement is improper ventilation of the attic. Homeowners and property managers often forget that these are important parts of your roof as much as the exterior shingles and flashing. Always discuss with your roofer to include an inspection of the insulation and ventilation status of your attic and roof assembly.
At Blue Sky Roofing, we are your leading provider of roof maintenance, installation and repair services. Call us at (512) 495-9770 or fill out our contact form to schedule a seasonal inspection and request a free estimate today. We serve homeowners in Oklahoma City, and all nearby areas.